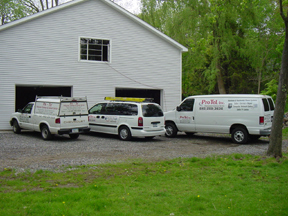 The business was unofficially started around 1980 servicing friends and a few customers with telephone system moves and repairs. This quickly grew as one customer would tell another of my services. Then in 2000 I finally quit my 9 – 5 job as a software programmer and started Protel, Inc. We are now serving over 460 customers in the tri-state area with a full range of products and services.
While Protel, Inc. has only be doing business for 10 years, I have spent my entire life dedicated to the telecommunications industry and electronics. I started developing telephone system and applications in 1972 and worked right thru to 1999. During this time I was a service technician in the field, service engineer for the tri-state area, promoted to special projects, applications engineer, software engineer/developer including named holder for patents for special voice mail applications. Total 37 years of a wide range of disciplines.

We are centrally located in Brewster, N.Y. Easy to reach our White Plains customers via 684 as well as our Connecticut customers via 84. In an emergency we can reach most customers within 30 minutes.